Dr. Mirna Zakić, Associate Professor of History at Ohio University, and co-editor Christopher A. Molnar published German-Balkan Entangled Histories in the Twentieth Century (University of Pittsburgh Press).
One reviewer described it as a "rich and insightful collection" that "features a riveting cast of actors, including linguistic minorities, emigre activists, racial anthropologists, propagandists, military occupiers, and vast numbers of ordinary people caught in the storms of history."
Part of the Pitt Series in Russian and East European Studies, the book's thematic focus is on the lands of former Yugoslavia and Germany, with contributions as well about Germany's relations with Romania, Greece, and Bulgaria. Along with co-authoring the Introduction, Zakić contributed a chapter, "'My Life for Prince Eugene': History and Nazi Ideology in Banat German Propaganda in World War II."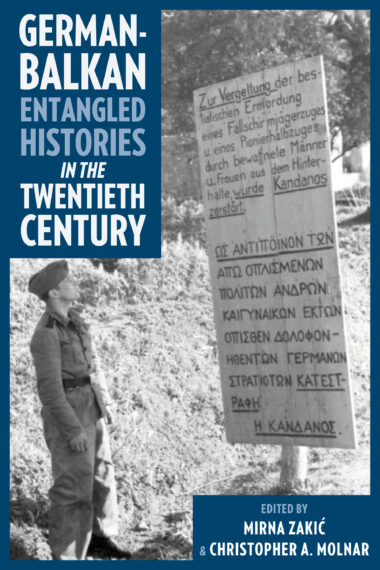 According to the book's description, "This volume brings together a diverse group of scholars from North America and Europe to explore the history and memory of Germany's fateful push for power in the Balkans during the era of the two world wars and the long postwar period. Each chapter focuses on one or more of four interrelated themes: war, empire, (forced) migration, and memory. The first section, "War and Empire in the Balkans," explores Germany's quest for empire in Southeast Europe during the first half of the century, a goal that was pursued by economic and military means. The book's second section, "Aftershocks and Memories of War," focuses on entangled German-Balkan histories that were shaped by, or a direct legacy of, Germany's exceptionally destructive push for power in Southeast Europe during World War II.
"German-Balkan Entangled Histories in the Twentieth Century expands and enriches the neglected topic of Germany's continued entanglements with the Balkans in the era of the world wars, the Cold War, and today."